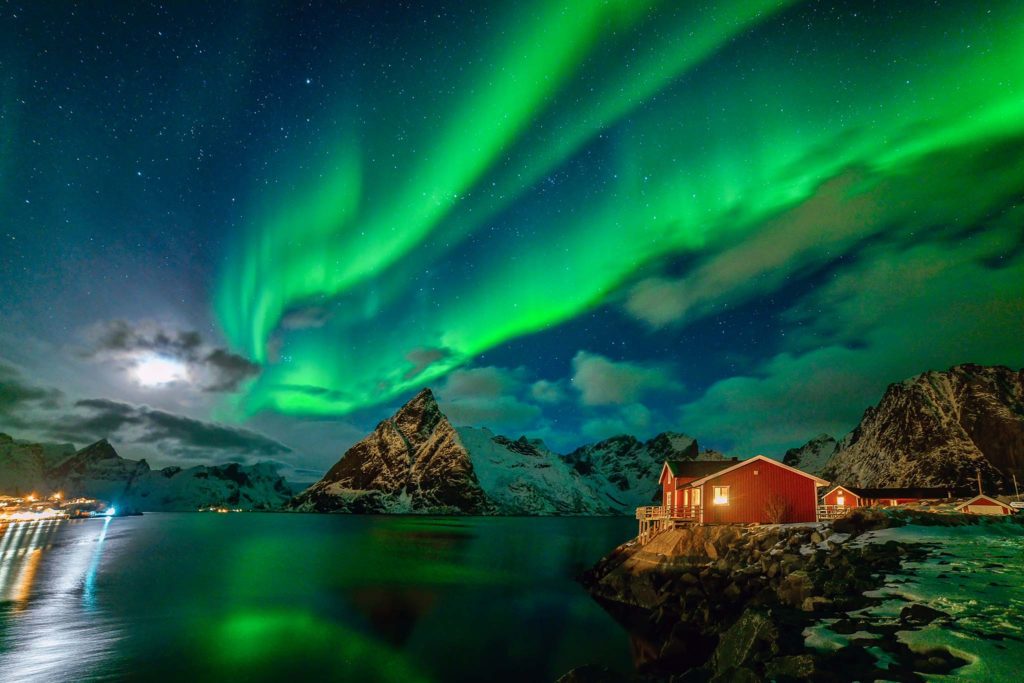 Norway – Lofoten Islands
The Lofoten archipelago is famous for it's dramatic scenery and fjords, as well as for being one of the best locations for seeing the Northern Lights.
Nestled off the coast of Norway, the Lofoten Archipelago beckons with its awe-inspiring landscapes, charming fishing villages, and captivating cultural experiences. Lofoten is a paradise for hiking and is home to many incredible places that are off the beaten path. However, some of them are almost, if not completely, inaccessible during wintertime.
If you're planning a trip to Lofoten this winter, make sure to include these ten must-visit and easier-to-reach places on your itinerary. From picturesque villages to pristine beaches and majestic fjords, Lofoten has something to offer every traveler seeking an unforgettable adventure.
1. Reine: A Picture-Perfect Village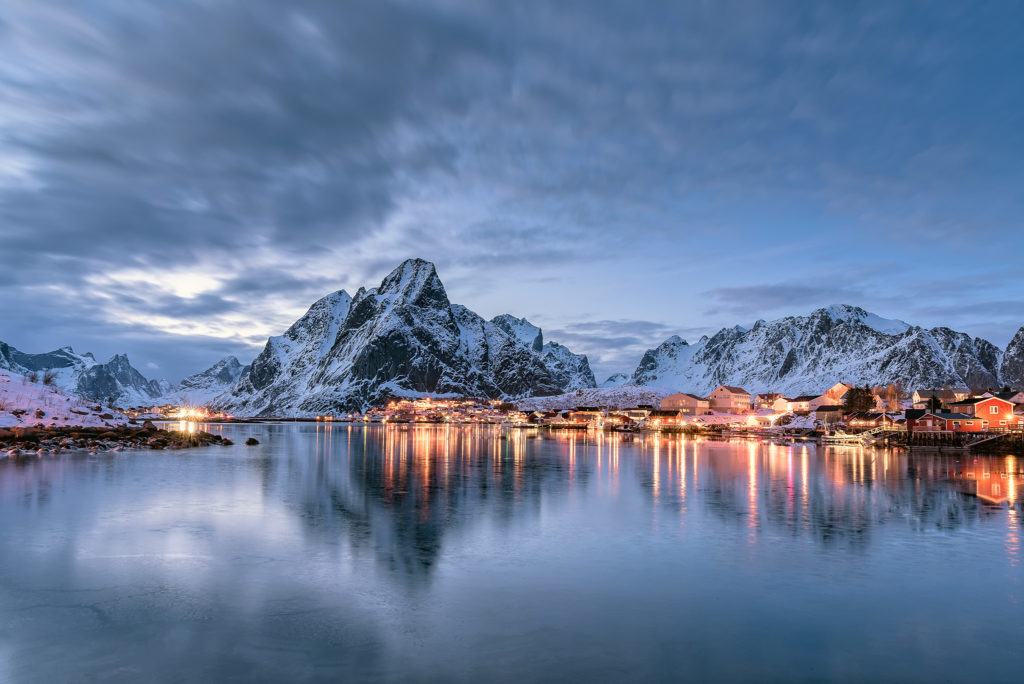 At the top of our list is Reine, renowned as one of the most beautiful places in Norway. Immerse yourself in the charm of red-and-white fishermen's cabins, known as rorbuer, set against a backdrop of majestic mountains and crystal-clear waters. Explore the village, capture incredible photographs, and soak up the serene atmosphere.
There is parking available right as you turn towards Reine from the main road. It will get a little crowded towards the sunset as many photographers gather to take a picture of Reine during the Blue Hour, and it's also a good spot for seeing the Northern Lights.
2. Hamnøy: Bridges and Postcard-Worthy Views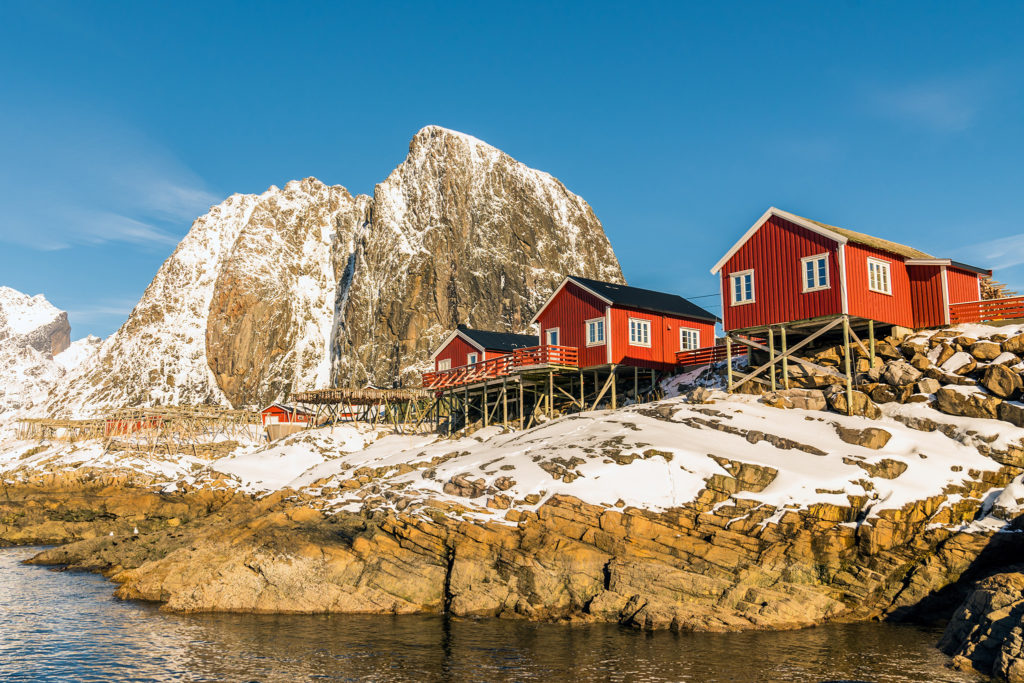 Hamnøy, located near Reine, captivates with its iconic red bridges stretching over picturesque fjords. As a photographer's paradise, this idyllic village offers postcard-worthy landscapes that will take your breath away. Capture the essence of Lofoten's beauty and let the scenery leave an indelible mark on your memories.
Park the car nearby and head towards the bridge for a postcard-worthy view. As for gear, you'll want to bring an ultrawide-angle lens or make sure your phone camera has an ultrawide lens.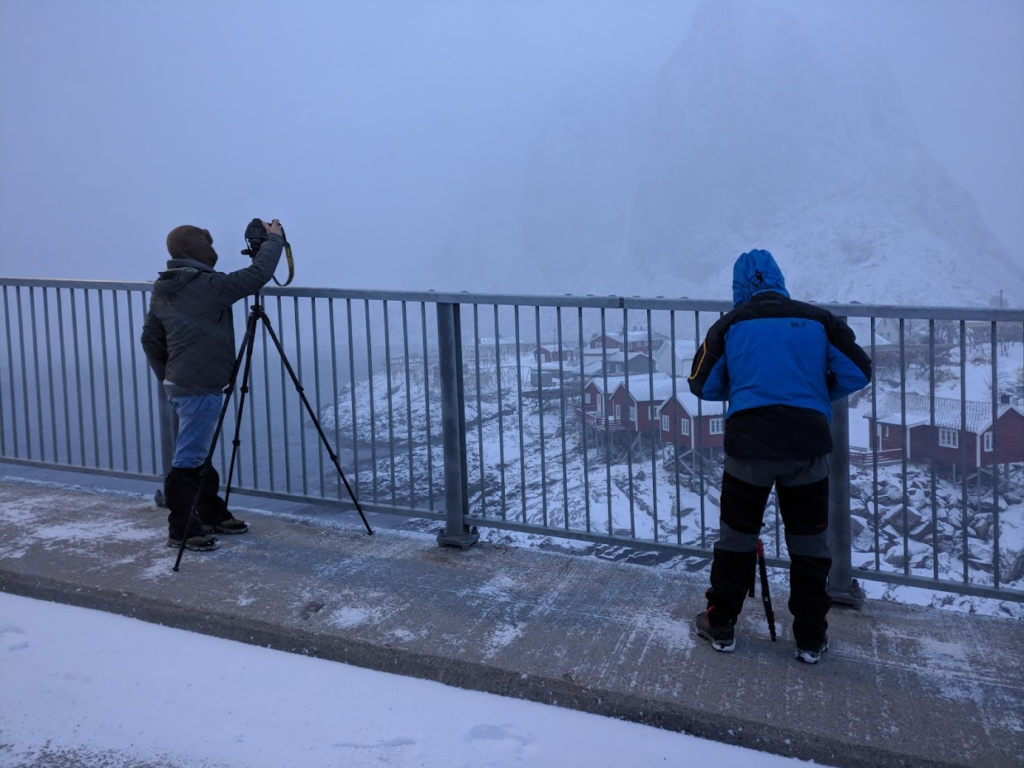 Be mindful that if the weather isn't friendly you can encounter some rather nasty winds on that bridge. The first time we were there, we had to keep one hand on the railings to not be blown away by the wind gusts, and one on the tripod so the camera won't fall.
If you're lucky and the tide is low, you can walk under the bridge to take a photo of the rorbuer cabins from below.
3. Uttakleiv Beach: Nature's Coastal Masterpiece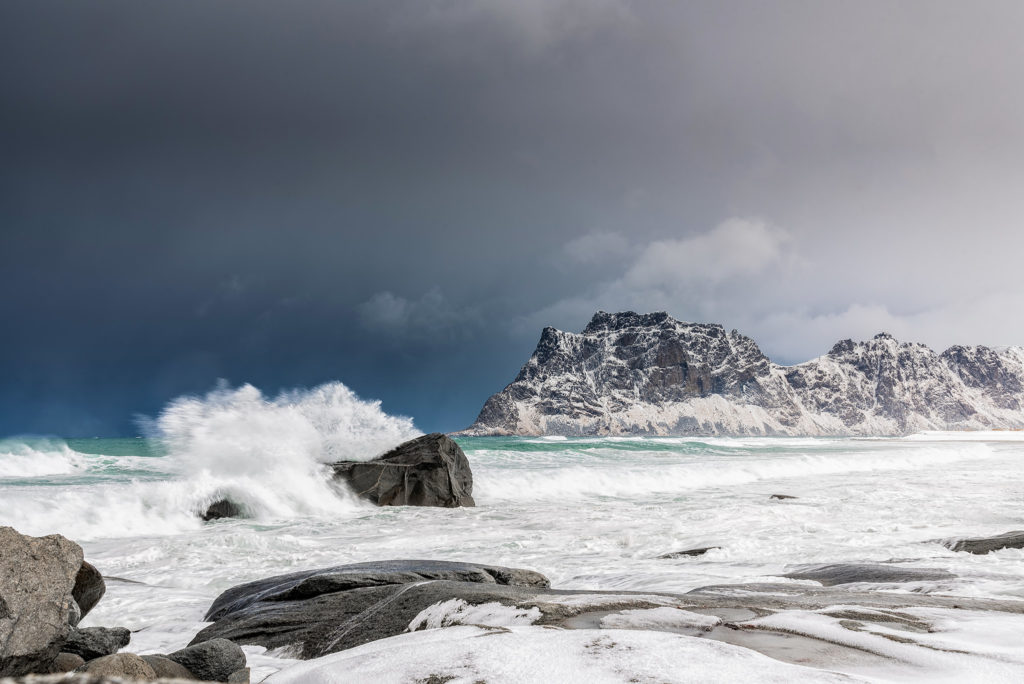 When it comes to beautiful beaches, Uttakleiv stands out as a true gem of Lofoten. It's no wonder it's a very popular spot for photographers in both winter and summertime.
With its pristine white sands, turquoise waters, and dramatic mountain backdrops, it's a place of unparalleled beauty. Bask in the serenity, witness the interplay of colors, and, if you're lucky, catch a glimpse of the mesmerizing Northern Lights.
4. Haukland Beach: Nature's Oasis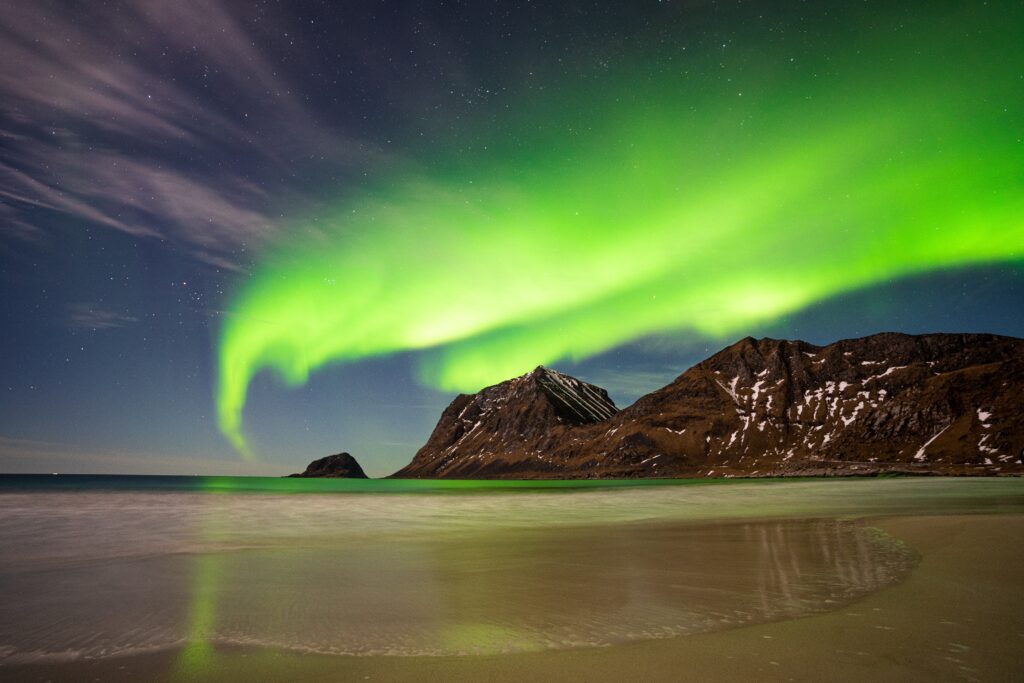 Close to Uttakleiv Beach, you can head to Haukland Beach for a refreshing coastal retreat.
In fact, these 2 beaches are separated by a pretty long tunnel.
Surrounded by majestic mountains, this beach offers a true haven for relaxation and an opportunity to connect with nature. And, you guessed it, a good spot for Northern Lights.
5. Breathtaking Icy Fjord (Secret Location)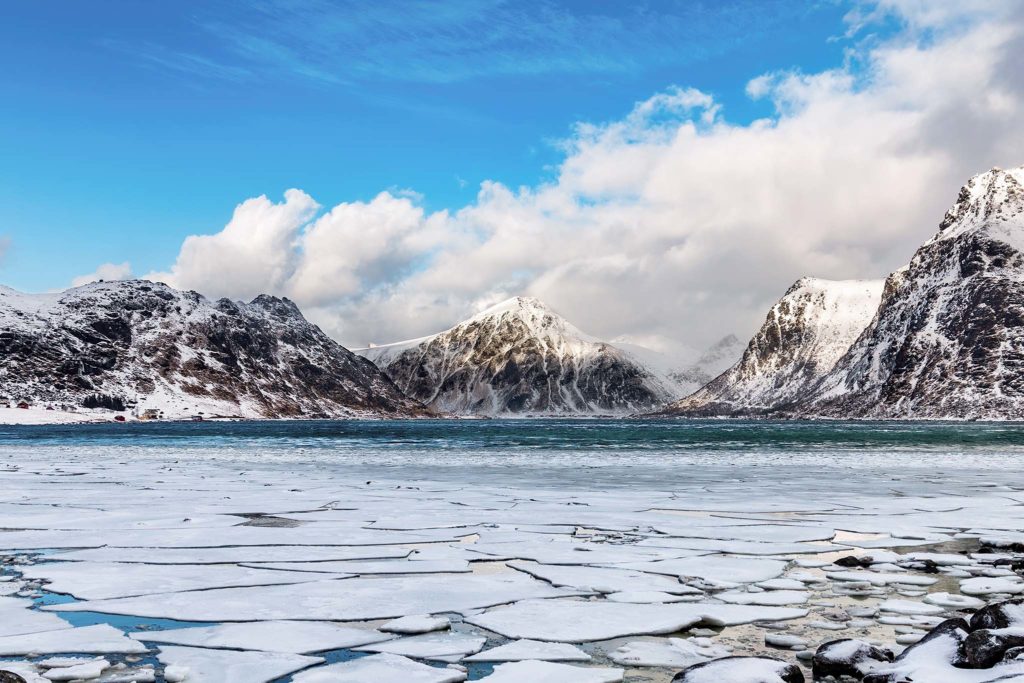 Lofoten is beautiful during summertime, but it's during the cold months that you can find the true winter wonderlands. This view is just off the road, close to Flakstad. It's rather unknown, meaning we stumbled upon it just exploring the place. It may or may not have ice pieces floating around, as ice first needs to form before being broken by the movement created by the tide. You may have to visit the place more than one time if the tide is low, but it's worth it.
Parking is difficult and the snow can be quite deep, so take that in mind. Where is it exactly? Well, here are the exact coordinates.
6. Yellow Houses (Secret Location)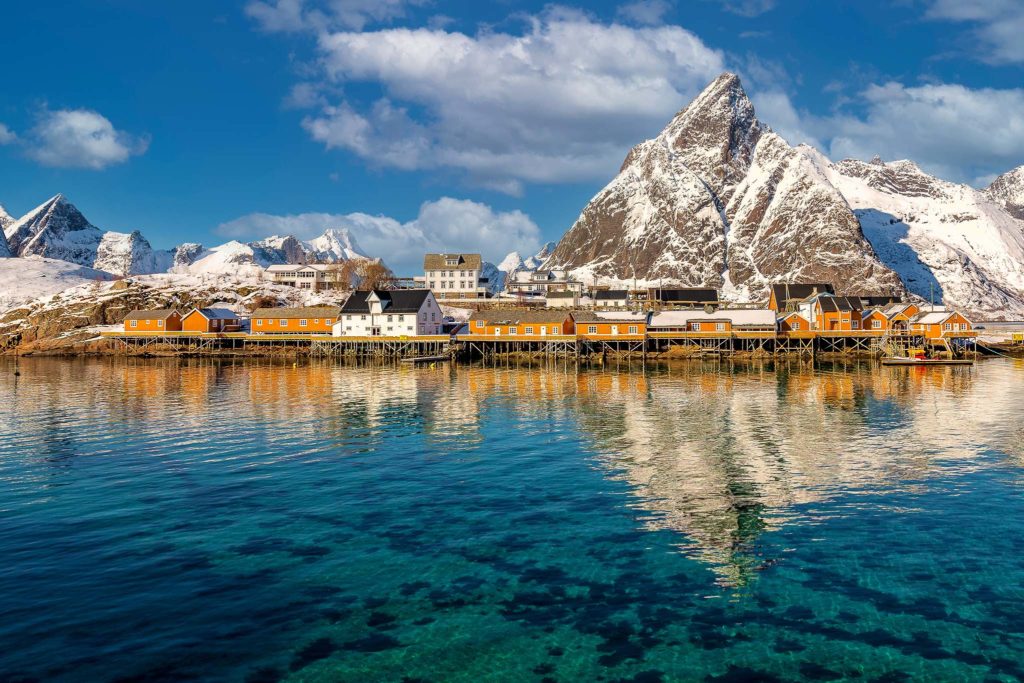 Everything in Lofoten is incredibly picturesque. I find the contrast between the water, orange houses, and the sky in this photo to be phenomenal. It's an amazing place to take a photo, or even just a selfie.
This location is between Hamnoy and Reine, and to reach it you have to leave the main road for a bit, park the car, and go on a little dock that's found right here.
7. Visite The Blacksmith at Sund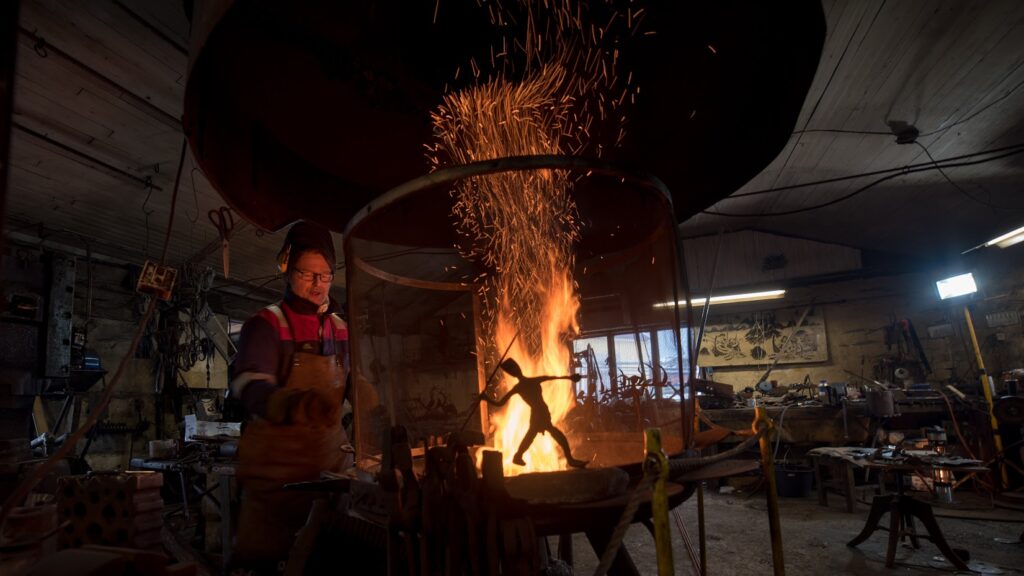 The Blacksmith at Sund is a unique and historic attraction and museum located in the village of Sund. It's a traditional blacksmith workshop that has been preserved and restored, offering visitors a fascinating glimpse into the traditional craft of blacksmithing.
The workshop dates back to the early 1900s when blacksmithing played a crucial role in the local community. Blacksmiths were skilled craftsmen who worked with iron and other metals, creating essential tools, horseshoes, and other objects needed for everyday life. The Blacksmith at Sund provides a window into this bygone era and showcases the craftsmanship and skills of the blacksmiths.
You can witness the blacksmiths in action as they forge and shape metal using traditional techniques and tools. The skilled artisans demonstrate the various steps involved in the blacksmithing process, from heating the metal in the forge to shaping it with hammer blows on the anvil.
8. Go Surfing in Unstad Beach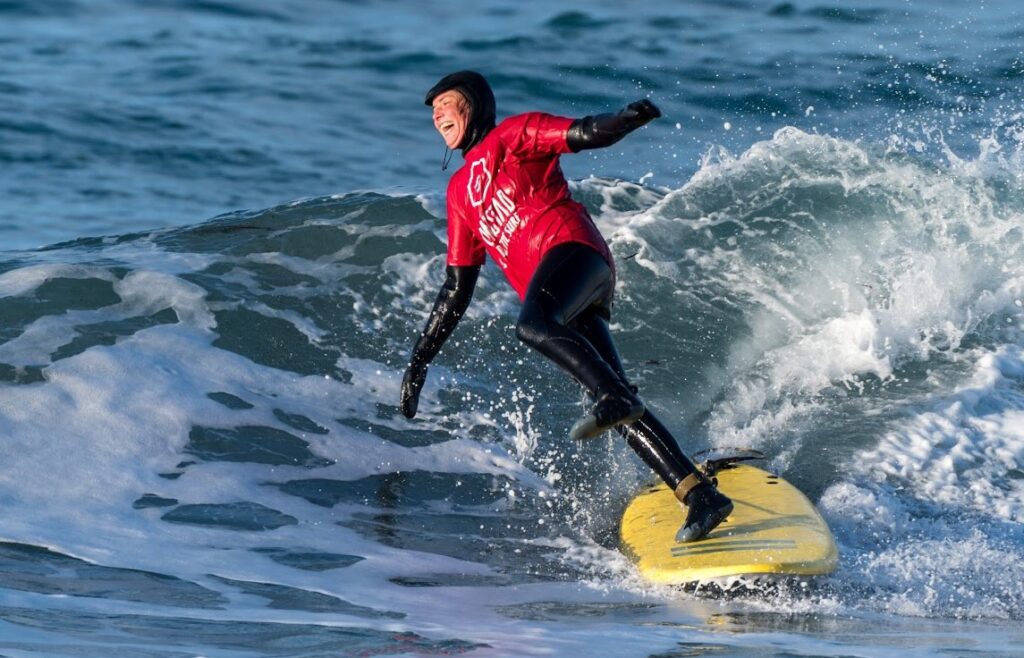 Sounds insane, doesn't it? Surfing in the freezing ocean surrounded by snow? Well, they do that.
Head to Unstad Beach to see for yourself and grab a surfboard and cold-water gear if you're feeling adventurous. Otherwise, it's great fun to watch surfers from the beach, which is what we did. I have to admit it really looks fun.
Lofoten has gained attention in recent years, attracting surfers from around the world to this remote and stunning location. Unstad Beach has become known for its consistent and reliable surf conditions, making it a preferred spot for surfers of all levels.
9. Go on a Sea Eagle Safari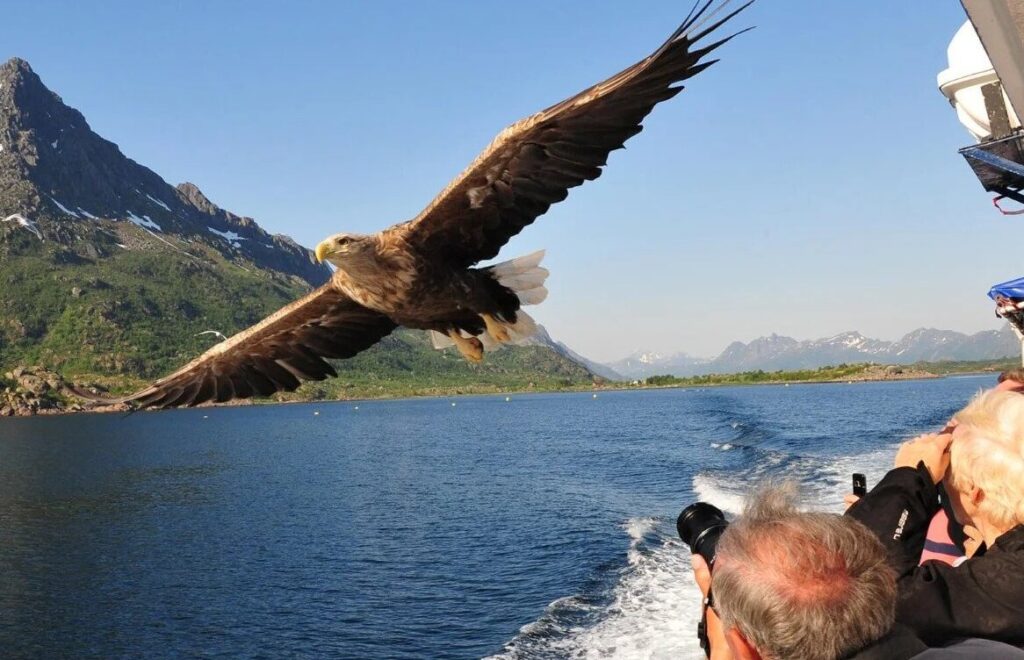 The Sea Eagle Safari in Lofoten is an exciting and popular activity that offers visitors the opportunity to observe and photograph one of the region's most majestic creatures, the sea eagle. Known for its impressive wingspan and striking appearance, the sea eagle, or white-tailed eagle, is the largest bird of prey in Europe.
The boat takes you to known feeding areas and nesting sites where the sea eagles are likely to be spotted, as far as I know, Trollfjord is such a location. But I might be wrong.
10. Chase the Northern Lights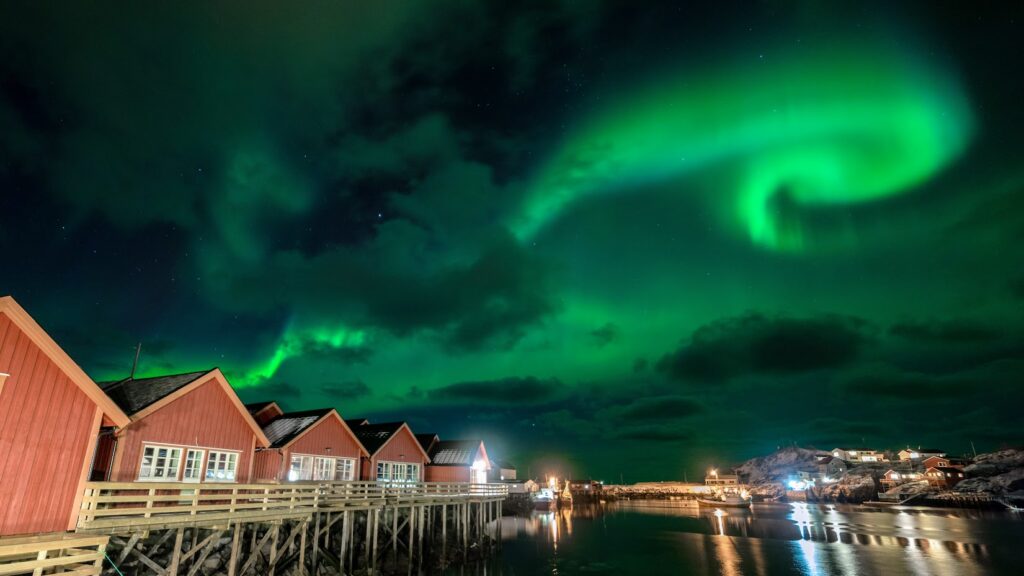 Chasing the Northern Lights has to be a core part of the Lofoten Experience. There is quite a bit of luck involved with the weather, not to mention the Lights themselves, but finding a good spot to hunt them while looking with one eye after clear skies and the other on the Aurora Forecast makes seeing them that much more exciting.
You should try to find a dark, open space, dress for the cold, be patient, and don't forget to snap a photo. Of course, a tripod is highly recommended.
11. Try the local cuisine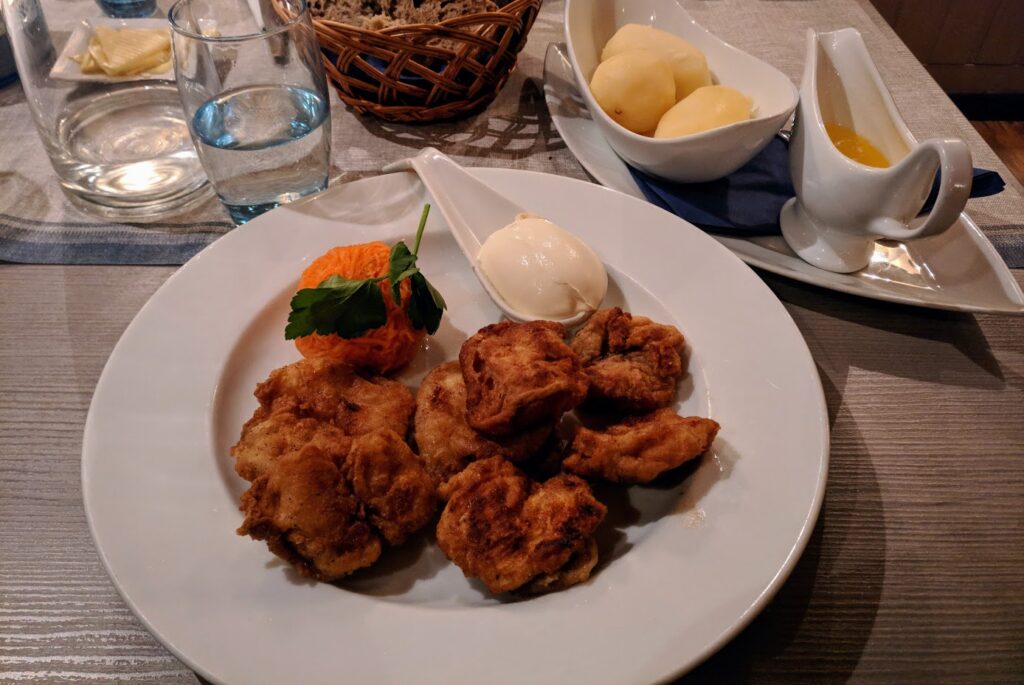 No trip is complete without trying the local food. The local cuisine of Lofoten reflects its coastal location and rich fishing heritage. Seafood takes center stage in many traditional dishes, showcasing the region's bountiful waters.
Stockfish is present in all fishing villages, you will see them hung on wooden structures to dry. Cod Tongue is another delicacy, and it seems kids are making a lot of money cutting the tongues for this delicacy.
Another dish to try is Reindeer Meat. It is often prepared as hearty stews, steaks, or sausages, with its rich and tender flavor adding a unique touch to the local cuisine.
If you're looking for something more controversial, you can also try the Whale Stew.
12. Create your own adventure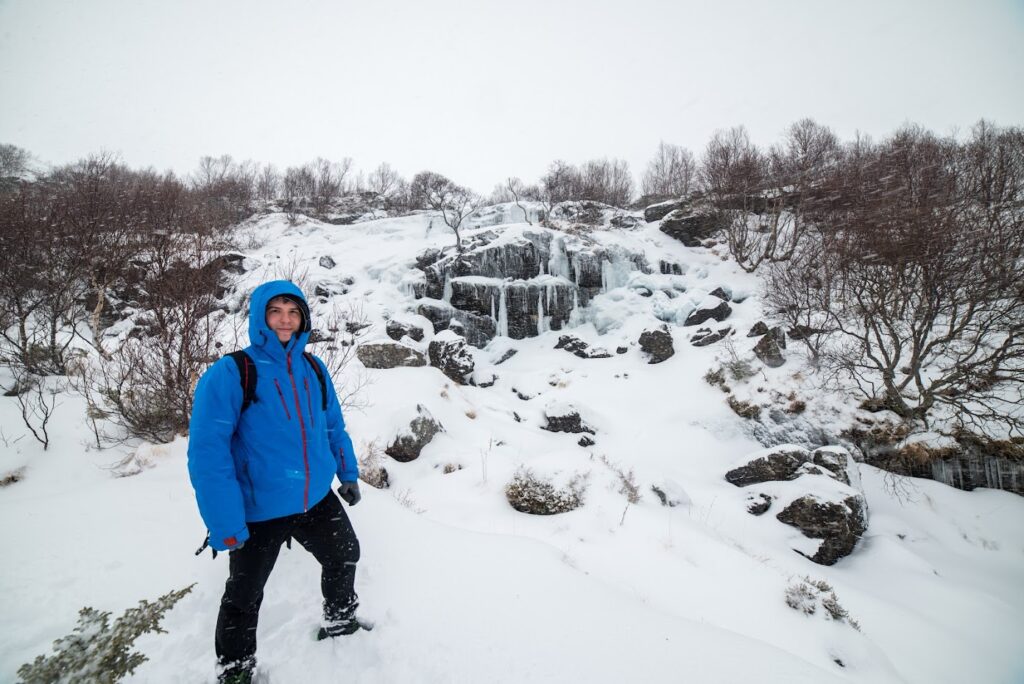 The Lofoten Archipelago is a place full of wonder and endless activities. In this article, there are a couple of things that you can do or see based on my personal experience and mostly focused on photography. But, I strongly encourage you to create your own adventure. You can go exploring various attractions, go hiking through the snow, go ice fishing or kayaking, visit museums, or just relax in a sauna.
We did hike through a blizzard and knee-deep snow to see the Lofoten Waterfall and take (what we thought would be) amazing photos, only to find out it's completely frozen. But the adventure itself was amazing.
We certainly enjoyed exploring the Lofoten Archipelago and we'll definitely be back. If you feel the same way, you might want to check out our prints from the Lofoten Collection.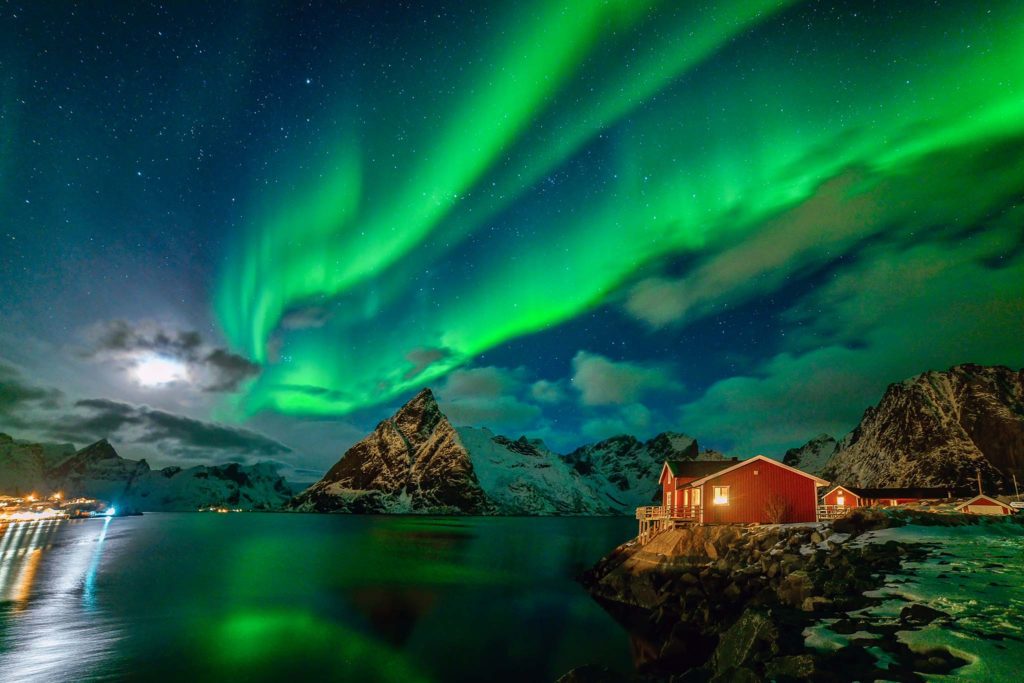 Norway – Lofoten Islands
The Lofoten archipelago is famous for it's dramatic scenery and fjords, as well as for being one of the best locations for seeing the Northern Lights.